Future planning can be overwhelming anxiety inducing. The Retirement Mirage: Time to Think Differently breaks apart those very illusions most of us hold about future financial planning. A realistic yet optimistic rendition by Nancy Hite, the book includes engaging and inspirational accounts from real life, aided with her valuable experience in well-calculated financial planning.
Each chapter begins with a practical and refreshing narrative that is easier to relate to and perfectly complements the chapter's title. From how to not fall for the credit card "trap'' to effectively run a successful business without wasting funds, the book is packed with detailed, invaluable advice that helps people from all walks of life.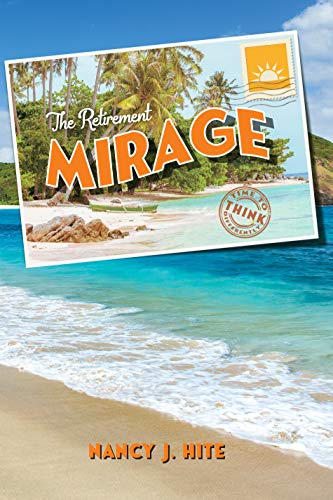 Taking care of your financial wealth is just as essential as taking care of your mental health. Indeed they are related. Today's work climate can be stressful, and money management adds to the mental burden of working life. This book discusses financial wellness, one among many concepts, and how to achieve it.
The Retirement Dream
The Retirement Mirage: Time to Think Differently primarily aims to achieve the ideal American retirement dream. However, studies have shown that retirement in the 21st century is more grey than golden. In our childhood, we've had our parents and grandparents knit the perfect retirement version, "the life after career''. And most of us have followed in their footsteps.
However, unlike the dream, society, and the financial market, hasn't remained stagnant. Retirement is not just sunbathing, margaritas, and exciting adventures, as the commercial world would very much like to sell you. As suggested by Nancy Hite, we'll probably run out of money midway through the 'perfect' retirement. In this book, you'll find her wise input guiding one into dealing, instead avoiding, such financially vulnerable scenarios.
Spend It Now, Spend It Later Or Spend It Never
One of the main ideas The Retirement Mirage: Time to Think Differently revolves around is this; If life had just been about saving our finances for the future, we'd be misers. And if life is only about spending now and worrying later, we'd be bankrupt. Hite discloses to the readers her secrets of finding the perfect balance in this book. Her passion for financial planning and her years of working with clients, assisting them with their taxes, investments, income, and so on, has resulted in exemplary candid notes that are shown in this book.
The Retirement Mirage: Time To Think Differently might be of excellent help for those of us trying to crack the code to a well-planned future. The fascinating varieties of accounts of people that discuss their financial hurdles and how they got over them is an exciting bonus for readers to enjoy and learn from.
Every chapter is well crafted, starting with a real-life account and then discussing prominent financial obstacles that most of us face. The chapters then gradually jump into discussing possible practical solutions. However, the book is not only limited to audiences trying to find answers to healthy financing. It is quite an enjoyable and insightful read whether or not you are stranded amidst an island of debts or stagnant income or anything in between. Pre-order The Retirement Mirage: Time to Think Differently on Amazon to get a leg up on your retirement goals.