The leading theme park and entertainment company now offers guests a convenient alternative payment method.
Major retailers and other businesses, including SeaWorld Parks & Entertainment, Inc., are increasingly offering a "buy-now, pay-later" option—which can augment sales by providing customers with a potentially more flexible payment method than credit cards or cash.
Buy-now, pay-later is, as a recent Washington Post article noted, essentially a variation of the installment plan system, which became popular during the mid-19th century as the amount of available time-saving, yet often costly, products—such as sewing machines and automobiles— grew.
Other payment methods—notably credit cards, which were in widespread use by the 1970s— eventually eclipsed installment plans. Today, more than 90% of consumers have a credit card.
Overall customer satisfaction with credit card issuers, however, has declined for two consecutive years—and some consumers seem to be relying less on credit cards to pay for items.
A New Purchasing Landscape
During the pandemic, credit card utilization rates declined. Younger consumers, in particular, have been gravitating toward other forms of payment for goods and services.
Millennials are less likely to have a personal credit card than older adults; 29% of 18- to 34-year-olds don't, whereas just 14% of consumers 35 and older don't own a credit card. More than half—52%—of Gen Z members and 41% of millennials say they'd prefer to use debit cards.
Buy-now, pay-later options are also a popular payment choice among younger consumers. Nearly one in four millennials—24%—used a BNPL option between August 2020 and August 2021, along with one in five Generation Z members (18%) and 19% of Generation X.
Overall, one in five consumers made a purchase using a buy-now, pay-later service, also between August 2020 and August 2021. Global sales involving BNPL totaled $93 billion in 2020; and could exceed $181 billion by 2022, according to one estimate.
Some consumers have chosen to use buy-now, pay-later offerings because of their payment structure. Approximately four in 10 Americans (39%) say their inability to pay for a product or service in full is their main motivation for using a BNPL service; nearly as many—38%—are interested in buy-now, pay-later programs because this allows them to make payments over time without being charged interest.
Certain BNPL providers, such as Affirm, don't charge any late fees. Payment service Klarna's "Pay later in 30 days" product also has a no-late-fee policy.
Approximately 46% of retail shoppers who used BNPL said they chose it instead of a credit card to avoid high interest rates and revolving debt.
Consumers seem to generally have had a positive experience with buy-now, pay-later services. Most of the people who tried the payment method used it more than once, indicating they were likely satisfied with the outcome; 80% felt it had made making a purchase somewhat or very easy.
Whether online or at brick-and-mortar locations, offering a BNPL option at checkout can potentially help businesses attract and retain customers. Merchants have found point-of-sale (POS) financing can help increase their average order value, enhance cart conversion and draw younger consumers, according to research by McKinsey.
Nearly one in four consumers say they're more likely to buy from a website or retailer that offers the service—and 44% of consumers who've used BNPL say they prefer it over credit cards.
Enhancing the Customer and Company Experience
In September, SeaWorld became one of the latest companies to integrate buy-now, pay-later as a payment option through its new partnership with Uplift, a leading enterprise BNPL solution that caters to the travel industry.
Available in the U.S. and Canada, Uplift currently provides BNPL services to more than 200 major airline, resort and other travel brands, including United, Carnival Cruise Line, Air Canada, Southwest Airlines, and travel search engine site Kayak.
Uplift's flexible payment options provide consumers with a simple, direct way to pay for purchases over time without incurring late- or early-payment fees—and can help companies that offer the service obtain higher conversion rates and increase customer loyalty.
As part of its agreement with SeaWorld, Uplift will provide BNPL options to book hotel and ticket packages for SeaWorld Orlando, SeaWorld San Antonio, and SeaWorld San Diego through the SeaWorld theme park websites. Guests can pay for packages costing $300 or more in affordable monthly installments.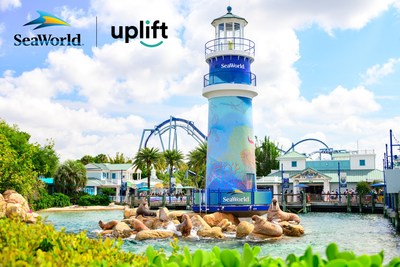 For example, a guest purchasing a $1,500 travel package would be able to pay $133.76 when booking the trip, and spread out the cost of the vacation by making monthly payments of $133.76 over the next 11 months, instead of paying the entire $1,500 upfront.
Uplift's platform has been seamlessly integrated into the SeaWorld booking process, allowing guests to see the total cost of their vacation package and full details about their future monthly payments at the time of purchase.
In September, Tom Botts, chief commercial officer for Uplift, said Uplift is looking forward to partnering with SeaWorld Parks & Entertainment, Inc. to make it even easier for guests to plan a trip to one of its leading theme park locations.
"Visiting SeaWorld is a one-of-a-kind experience with world-class attractions and award-winning events that appeal to guests of all ages," Botts said. "From Sesame Street character meet-and-greets, to thrill rides and seasonal events, the parks offer year-round family fun and adventure. Uplift is excited to build upon our deep knowledge and experience in providing easy payment solutions for travel packages … to help more families have an affordable vacation and make everlasting memories at SeaWorld."
Beyond BNPL
SeaWorld's forward-thinking partnership with Uplift is one of numerous strategic leadership decisions the company has made in the past two years to position itself for profitability.
Despite the COVID-19 pandemic's ongoing economic impact, SeaWorld Entertainment, Inc. experienced a strong fiscal year first quarter in 2021, generating positive adjusted net cash flow and an increased adjusted earnings before interest, taxes, depreciation, and amortization (EBITDA). The company also reached record revenue, net income and adjusted EBITDA levels in the second quarter.
Due in part to growth in admission per capita and in-park per capita spending, the company's second quarter total revenue—$439.8 million—showed an increase of $421.8 million from the second quarter of 2020 and an $33.8 million, or 8.3%, increase from 2019.
Net income hit a record $127.8 million in the second quarter, a $258.8 million rise from the second quarter of 2020 and $75.1 million (42.7%) from the second quarter of 2019.
Fueled in part by a decrease in operating, selling, general, and administrative expenses, adjusted EBITDA also reached a record amount, $218.8 million, which was a $69.1 million increase from 2019.
The company's strategic pricing efforts and other factors helped admission per capita also increase 16.5% to $41.87. In-park per capita spending grew 11.6% from the second quarter of 2020 to 2021 because of elements such as an increase in guest spending, enhanced product mix, and strong consumer demand.
In a keynote speech given at the IAAPA conference in April, CEO of SeaWorld Entertainment, Inc. Mark Swanson, noted the efforts of the company's management team and board— including Scott Ross, Founder and Managing Partner of Hill Path Capital and Chairman of the Board of Directors of SeaWorld Entertainment, Inc.—had enabled the company to prosper during the pandemic.
"Having a large investor on the board allowed us to align goals and move even more confidently and decisively," Swanson said. "That collaboration allowed us to address our operational costs and maximize our financial flexibility, giving us some breathing room to make difficult decisions with some degree of confidence. Our partnership with our chairman [Scott Ross] and our other board members allowed our company to adjust and move forward with more creativity and nimbleness than we had before."
Scott Ross said in May that the executive team—in particular, CEO Marc Swanson and CFO and Treasurer Elizabeth Castro Gulacsy—had "taken the necessary decisive actions to position the company for long-term success," and SeaWorld Entertainment, Inc. was looking forward to fulfilling the long-term potential of the company's assets and brands under Swanson and Gulacsy's continued leadership.
In mid-August, SeaWorld Entertainment, Inc. also announced it would be offering $725 million in 5.25% senior notes for its wholly owned subsidiary SeaWorld Parks & Entertainment, Inc., due 2029 and priced at 100% of the notes' par value.
The notes were offered to persons reasonably believed to be qualified institutional buyers and non-U.S. investors outside the U.S., in accordance with Rule 144A under the Securities Act of 1933 and Regulation S, and fully and unconditionally guaranteed by SeaWorld Entertainment, Inc. and various subsidiaries.
In addition to its recent financial achievements, SeaWorld Entertainment, Inc. is in the process of expanding its operations both nationally and internationally.
The company plans to add operating days in 2021 at its U.S. locations and extend its footprint to include a new Sesame Street-themed Sesame Place park next year in San Diego. Completion of SeaWorld Abu Dhabi, the first SeaWorld park to be located outside of the United States, is also currently scheduled to occur by the end of 2022.