I have been testing a new Instagram growth tool for a couple of months now and I felt it was time to write a detailed review since I've had enough time to really experience all of its features and have seen what it can do.
The software is called SocialCaptain and it's an AI-based Instagram growth solution that is more human than bot, which is what has caused many people to shy away form older, more outdated growth tools, instead opting to try their hand at growing manually.
I was in the same boat, because the software and automation tools I have used in the past just delivered spammy results and those aren't what generate sales and put money in my pocket. When I market my business or a specific offer or product on Instagram my goal is to make money.
I originally learned about SocialCaptain in a Facebook marketing group I am a member of and someone was asking if anyone had tried them out. After visiting their website and seeing all of the features it looked promising to me. The real kick, though, was the three-day free trial they offered. I felt there was no risk involved and I was very curious to learn more about how it worked, especially the artificial intelligence component of the software.
After really diving into the features and using it on a fairly new Instagram account I felt it warranted a review. Here are some of the main points that I think are important for anyone looking for a new Instagram growth tool and considering SocialCaptain.
What SocialCaptain Really Is
After giving this software the run-through the best way I can describe it would be like having a full-time employee doing manual work within your Instagram app, but with super powers that allowed him or her to work at speeds that are not humanly possible.
The interactions, engagement, targeting, and filtering options all work together to create a very natural, almost human-like strategy, that don't make you appear to be a spammer. I am sure you have seen comment on your posts that just scream automated bot spam.
Comments like, "Wow! This is the best one!" They make no sense, they are totally random, and they were dropped by accounts that have zero interest in you or your offers. They just hope you are dumb enough to follow them.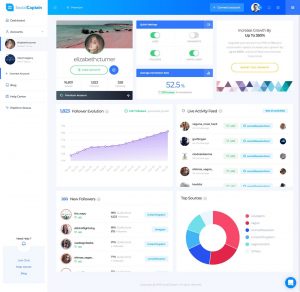 The Most Interesting Features of SocialCaptain

I'm absolutely fascinated with AI and how it creates smart software that learns and improves over time. Well, thanks to SocialCaptain artificial intelligence can now be leveraged to grow your Instagram following on auto-pilot, helping you to scale 24/7.
Automated Instagram growth has always been my goal, but not at the expense of looking like a spammer. That is a bad look for any company, so that is why I pulled back from tools and started doing more manual work on my accounts.
The targeting and filtering this tool allows you to use makes sure that you are only interacting with profiles that have a high probability of actually being interested in what you are posting about and what your offer is. This is why you are able to attract real followers and see real engagement.
SocialCaptain Pricing Options

Pricing for these tools seems all over the map, and agencies can cost you several thousands of dollars a month with results that aren't overly impressive or come with a ROI that warrants the cost. Most companies are stuck between a rock and a hard place, because they know they have to be active on Instagram, but they don't know what the best marketing solution is.
After your free three-day trial, you can pick either the regular plan which is $15 per week (or $39 per month) or the Turbo plan which is $99 per month. If you can afford the Turbo plan I would suggest it, as it offers growth speeds of 10 times of the regular plan.
What Do I Really Think?
I'm not going to dance around this question. This is the best Instagram marketing software that I have ever used, which is why I am still signed up to the $99 monthly Turbo plan for several of the Instagram accounts I use in my marketing.
I can honestly say that you will have no regrets taking SocialCaptain up on their free trial option. You have nothing to lose and you can see for yourself how the AI-based software works. Make sure you pay attention to the live tracking and the real-time analytical data available in your dashboard. Seeing this tool work in front of your eyes shows you just have effective artificial intelligence is and how it's the future of social media marketing.