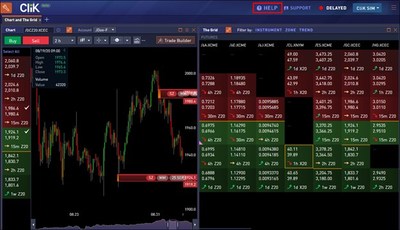 The Supply and Demand Grid has been an integral part of Online Trading Academy's methodology. The Grid works by finding potential changes in the market and releasing information on designated zones. These zones extend across a wide range of markets and help signal where banks and institutions will cause price changes. In the hands of a prepared student and the right amount of risk management, this can be a valuable tool for trading and investing.
Now, Online Trading Academy is expanding the Grid, making it an even more powerful tool. As Online Trading Academy's VP of Education, Steve Albin explains that the expansion is a "continuation of [the company's] relentless commitment to invest in [its] students and help them build skills, evolve proficiency, and develop confidence for trading and investing."
The changes are an evolution based on students' requests, portfolio tracking, and the overall direction of trading and investing. The major change is that the Grid, which was previously an integral part of the program for Mastermind Community students, as well as the classes and instructor-led practices offered by Online Trading Academy, will now be available on CliK. CliK is an award-winning and innovative platform that is unique to the industry and combines education and analysis directly on a trading platform. By including the Grid on CliK, Online Trading Academy makes it more accessible than ever before.
Online Trading Academy Expands the Markets That the Grid Covers
It's not just where the Grid is accessible that the company is expanding; it is also expanding the markets that it covers, now offering a total of 51 instead of 35. Markets added span across the foreign exchange (forex), futures, and exchange-traded funds (ETF) markets. Additionally, while the Grid previously published up to 210 zones per day, that number will now increase to up to 306 zones.
Some of the added markets include diversification of the European market with the addition of the United States Dollar/Swiss Franc and British Pound/New Zealand Dollar to the list of forex markets covered. Also added were the highly popular platinum, wheat, and British Pound from the futures market, as well as the inclusion of three industry sectors in the ETF markets now covered: the consumer discretionary sector, the technology sector, and the communications sector.
The expansion of the Grid reflects that it is an integral part of Online Trading Academy's proprietary "Core Strategy" methodology, which is designed to build confidence and strategies for making strong decisions aligned with the goals of short- and long-term trading and investing. In time, Online Trading Academy will further expand the Grid to meet the needs of a changing market and provide the highest quality education and resources for its students.
Online Trading Academy in the NewsOnline Trading Academy has risen to the challenges of the past year to meet the needs of its students. The company is proud to have received more than 200,000 student satisfaction reviews.