As Robinson Helicopter Company can attest, achieving business success isn't just about meeting production and sales goals. Since Frank Robinson launched Robinson Helicopter Company in June 1973, the company says it has centered around a customer-first ethos evident in production, marketing, sales, customer service, and even dealer support functions.
Robinson Helicopter Company's Customer Focus
Frank Robinson's desire to break into the small helicopter market led him to develop the company's first helicopter, the two-seat R22. He wanted to offer a small, affordable aircraft for aspiring pilots and businesses with relatively modest budgets. The R22's enthusiastic market reception was proof that Robinson had responded to an unmet customer need.
Since then, Robinson Helicopter Company's introduction of the R44 and R66 models has received the same positive market response. The larger helicopters' widespread success validates Robinson Helicopter Company's longstanding commitment to developing products that address the requirements of specific markets.
During Robinson Helicopter Company's 40-plus years in the civil helicopter industry, the company has delivered more than 13,000 aircraft to individual owners, flight schools, and commercial businesses worldwide.
Each aircraft contains updated technology and safety equipment that align with Robinson Helicopter Company's overarching goal. The company wants its customers to experience safe, enjoyable flights. Kurt Robinson, the company's president and Frank's son believes that this focus on innovation and safety helps build trust with customers.
"People want to know that if you come up [with] or develop something, particularly if it's safety- related or enhances that, that there is a methodology by which they can be assured that they can upgrade their aircraft and that you can share those things and continue to evolve the marketplace," says Kurt Robinson. "And that's something that I think everybody in the field, people that use our products, [know that] we have a consistent reputation of doing that. And I think that gives them a bit of a warm and fuzzy feeling, that we have their back, so to speak."
During Robinson Helicopter Company's growth, Frank Robinson encountered countless engineering and production obstacles. Some of these roadblocks might have caused a less-determined owner to throw in the towel. However, these problems were no match for Robinson. Kurt Robinson recalls his father's simplified problem-solving approach.
"One of the things I took from my father was he never gave up. And in fact, one of the things that he had told me at one time is I can't solve all the problems that we have in front of us; I'm not even going to try. What I'm going to do is pick out the problem that has to be solved today and get that solved. And I'll wake up tomorrow and solve tomorrow's problem or the next one, and I just keep going. And that's literally what he did," Robinson says.
Sustained Emphasis on Engineering
Kurt Robinson says Robinson Helicopter Company's aircraft are as visually appealing as they are user-friendly. He points out Robinson Helicopter Company has received recognition for its innovative engineering achievements.
"We actually pride ourselves on being an engineering company, and that is something that I think we are known for," says Kurt Robinson. "It was obviously a marketing message; it was easily delivered by my father, just because of what he created and what he did. We understand that that's what everyone's perception of us is, and we're very proud of that. And so when we have an extra dollar, we don't put it into marketing; we put it into engineering. And we're constantly trying to develop and improve our products and do the engineering."
With Robinson Helicopter Company's strong engineering focus, it's evident that the company's engineers will never be satisfied with the status quo.
"We're always wanting to improve," he says. "We always want to make it lighter, less expensive, more reliable. These are just things that drive us. We never have just one odd project going at a time; we tend to have a lot of different things that we're looking at. And we are researching them and developing them to a certain point where they are ready for prime time."
Kurt Robinson Prioritizes Production and Partnerships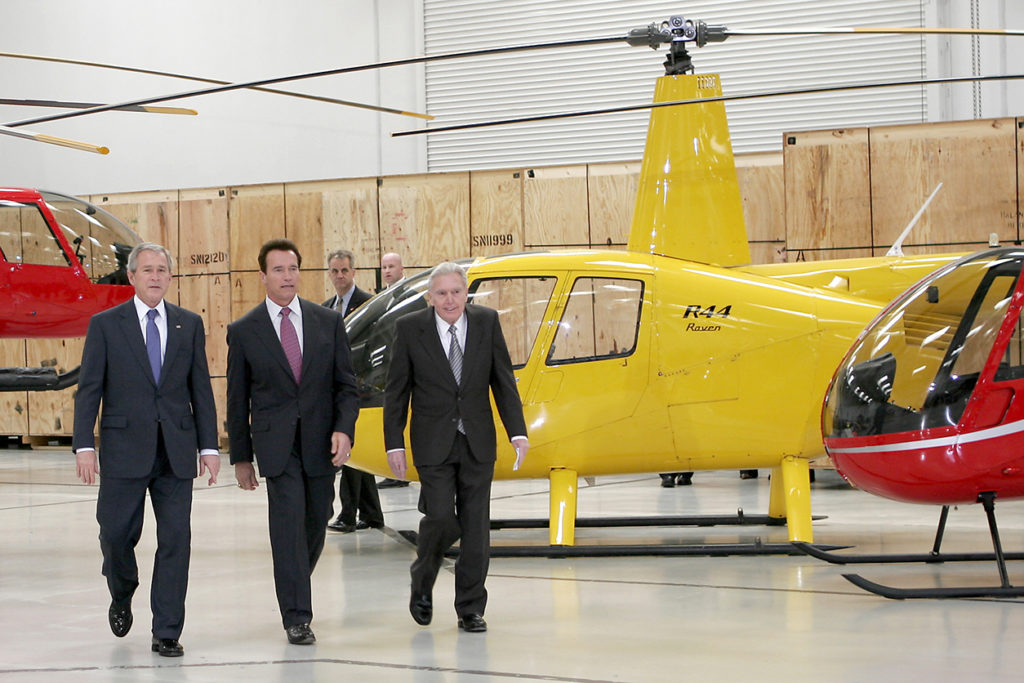 As Kurt Robinson steers Robinson Helicopter Company into the future, he is dedicated to maintaining the company's focus on safety and innovation while making aviation highly accessible. Kurt Robinson likens the company's "mass production" approach to Henry Ford's legendary production and marketing strategy.
"Our emphasis has always been to try to say that, for everything we produce, we want to sell at least 100 of them a year," he explains. "We want mass production because doing that allows us to keep the cost low and to do a little bit more development in it. So that's where we kind of try and focus on getting it down to the masses, kind of like the Henry Ford concept."
To bring aviation to the younger generation, Robinson Helicopter Company partners with several university-based flight schools. Kurt Robinson embraces the training market, cognizant that the company's helicopters have played a key role in many young students' training. Specifically, he mentions the two-seat R22 and two-seat R44 Cadet models.
"And the fact that so many colleges and flight schools are using our helicopters, to us it's a joy," he says. "I love meeting young students that are just learning to fly and come to our safety course; their enthusiasm is infectious. Especially when you see I've been flying now for 30 years, and to see somebody who's just learned to do it, it's just too much fun to talk to them and walk through with it. But I also believe it's very important that we respond to that market and that we provide, we try and make it affordable for them so more people can learn to fly so that they will be able to use helicopters."
Many young pilots will eventually graduate to larger, more complex helicopters. Robinson says he frequently hears from professionals who commenced a commercial flying career after getting their start in a Robinson Helicopter Company training aircraft.
These seasoned pilots are well positioned to provide inspiration for young aviation enthusiasts. This helps ensure the popularity of helicopter flight for future generations.