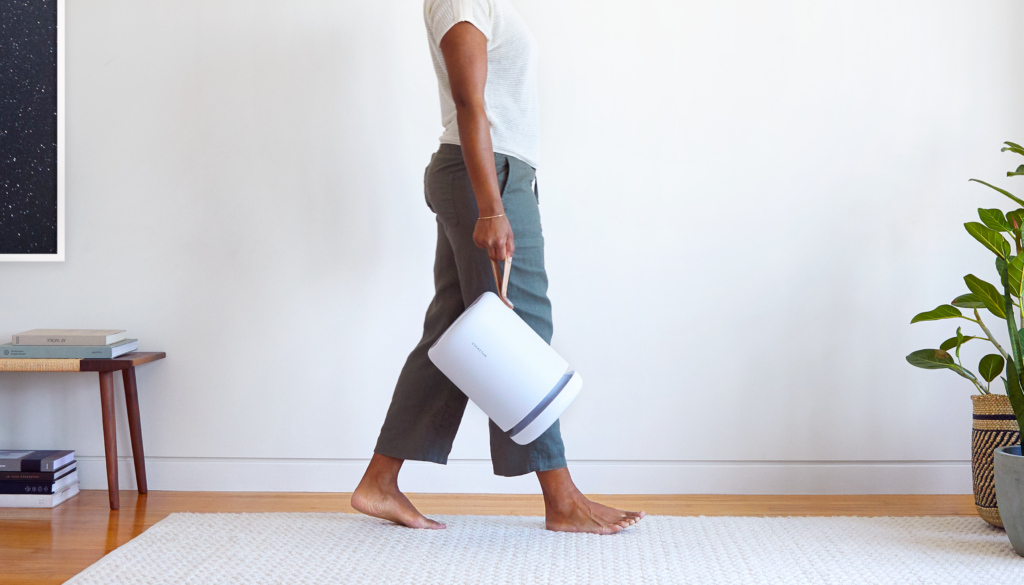 Molekule, the revolutionary air purifier company, is now offering a new and improved device: the Air Mini+. Like all of Molekule's air purifiers, this new unit uses proprietary photo electrochemical oxidation (PECO) technology that destroys indoor air pollutants at the molecular level. However, unlike other Molekule models, the Air Mini+ optimizes air purification through automation. In this Molekule review, we'll explain what new technology this latest addition brings to the world of air purification and help you decide if the product is right for you.
The State of Indoor Air
According to the Environmental Protection Agency, indoor air pollutant concentrations can be two to five times higher than outdoor levels. Air quality continues to worsen globally as wildfires, a heating climate, and increased outdoor air pollution pose a growing threat to our indoor air. According to the World Health Organization, repeated exposure to household air pollution can lead to health problems such as respiratory illnesses, stroke, and lung cancer. The elderly, children, and chronic disease sufferers are most at risk of the adverse health effects caused by unhealthy indoor air. Considering the negative health impacts of poor indoor air quality and the fact that we're all spending more time indoors, investing in a great air purifier seems like a no-brainer.
What Is PECO Technology?
Every Molekule air purifier uses patented PECO technology to deliver cleaner indoor air. PECO was developed by research scientists over 20 years and is a technology that has been rigorously tested and validated by several third-party labs. Molekule also continuously tests its technology to ensure that it delivers the best results.
PECO works at the molecular level, destroying pollutants like bacteria, mold, pet dander, and even VOCs as small as 0.1 nanometers. Low-energy UV-A lights inside each Molekule air purifier shines onto a nanocatalyst-coated PECO-Filter. This initiates an oxidation reaction that produces hydroxyl radicals, which destroy pollutants on the surface of the filter as air passes through. This breakthrough air filtering technology is the very first of its kind, and it produces no ozone or other harmful byproducts.
New Technology Puts Air Mini+ Above the Rest
Molekule has always included innovative PECO technology in all of its devices, so what makes the Air Mini+ different? A particle sensor and new Auto Protect Mode bring automation and accuracy to air purification. The Air Mini+ contains a sensor that measures how much airborne particulate matter is present in the air. When enabled, Auto Protect Mode uses the levels detected by the sensor to adjust the device's fan speed automatically. This ensures the device's most efficient air purification. These features were developed and added due to customer demand. Customers asked, and Molekule delivered.
The Air Mini+ has five different fan modes: silent, low, medium, high, and boost. A color-coded light at the top of the device indicates the level of particulate matter detected by the sensor (green for good and purple for very bad). While the sensor can detect particulate matter like dust and soot, it does not detect other pollutants like gaseous VOCs. However, the sensor is still a great tool to have that provides important insight into your indoor particle level. The Air Mini+'s PECO-Filter will also still take care of other pollutants, including VOCs, with ease.
All Molekule air purifiers, including the Air Mini+, are app enabled, allowing you to control fan speed, and see the status of the filter all from your phone. The Air Mini+ costs $499. Measuring 12 inches tall and 8.26 inches in diameter, the small but powerful device is designed for rooms of up to 250 square feet, making it a great addition to your home study, bedroom, or nursery. Equipped with a stylish vegan leather handle and weighing just over seven pounds, it's easy to take with you where you need it most, and if bundled with the Molekule Air, can be part of a whole-home air purifying solution.
Molekule believes in providing clean indoor air for all, and the Air Mini+ continues that mission. Its lightweight, portable design and affordable price point make it an accessible and worthy addition to your home. You'll get powerful and highly innovative air purifying technology in any room up to 250 square feet. It's ideal for anyone who simply wants cleaner indoor air.